Bali, Indonesia
As published in Preview magazine's "Tripping" section in 2002.
The Island of the Gods

Bali is the Indonesia's hottest tourist destination. The season peaks between June and August and slumps from December to March. But the parade of people never completely comes to a halt.

The Balinese themselves have no word for "paradise" in their native tongue. I guess living in something akin to it required no verbal equivalent. Instead, they simply call it "the island of the gods." From mountains to beaches, crowds to solitude, everything is just a ride away.

KUTA: Hedonist's Heaven
Although Denpasar is Bali's capital, those who want in on the action head straight for Kuta Bay on the southern end of the island. Kuta and Legian beach comprise this playground of the tanned and happy. Sometimes tacky and always crowded, it pulses and throbs with energy that is infectious. For quieter days, nearby Tuban beach is an option that still puts you a stone's throw away from the happening scene.

What to do:
Look like a tourist. Much like buying an anklet in Puerto Galera, there are three essential tourist must-dos in Kuta: get a massage, have your hair braided and top it off with a manicure. Or have them all done in one go. Peddlers all over the beach will approach you offering any of the three services.

Head for the beach.The beaches provide docking space for beachgoers who wish to spend the day laying on the sand or splashing in the water.

Surf. Those who surf will find no trouble renting a board from the many stalls that line the shoreline. It is an ideal spot for beginners as Kuta is the only place in Bali where the wave breaks over sand and not reef.

Bodyboard. Can't surf or maybe don't want to? Rent a bodyboard instead.

Take in a show. The larger hotels sometimes showcase traditional dances like the Legong. The elaborate costumes, complex choreography and rhythmic music make for a culturally entertaining experience.

Sunset at Tanah Lot
See the sunset. The temple at Tanah Lot is a postcard perfect sunset spot. But if you are too lazy to take the trip, Kuta beach also draws the crowds come sundown.

Party, party, party. This, my friends, is the center of self-indulgence and capitalism on the island. A happening nightlife draws many a tourist after the sun goes down. The Hard Rock Hotel and Café across the street from Kuta beach is a popular place for the hunks and hotties. A cold bottle of Bintang (the most popular Indo beer) is often the best way to start (and end) your evenings.

Spend that money! What dominates the sidewalks of both Kuta and Legian are surfshops – you can't walk ten meters without seeing one. All surfing brands have managed to set up shop for the fashionista surfer.

The Matahari Department Store and the general area near Kuta Central are stocked with stores just waiting for your money. Brand names galore but not much by way of traditional merchandise.

Kartika Plaza Center along Kartika Street is a great place to grab those traditional trinkets. It is especially interesting at night when the vendors move out into the main plaza to peddle their wares – carven figurines, bamboo pipes, wrought iron candle holders and the like. While you're there, have your picture taken with the exotic animals that are set up in their various perches and stalls. For about $6.00 you can pose with live owls, parrots, pythons and other wild beasts in the menagerie.

The shops on Legian's streets stay open longer (10:00pm) and offer a wider choice of buys. Brand names, trinkets, cheap shades and beads make up most of the wares. Stop by the Legian Arcade, a large mall-like shopping center for a quick retail fix.

Eating:
If you find yourself with a taste for Indonesian staples, order nasi goreng (fried rice), sate, and gado gado (vegetables in peanut sauce) duck into any roadside restaurant that serves local fare. Chinese and Western eateries also line the streets of Kuta and Legian so there is no way you will starve. There are McDonalds and KFC outlets for the less adventurous.

FURTHER SOUTH: Water Worship

You can't fully enjoy your trip to Bali by staying put in one place. To get a true taste of the island's diversity, take a road trip. Ulu Watu and Nusa Dua are further down south from Kuta and about two hours away. The island may be small but traffic can make for some long trips. (Think trying to get to Alabang from Ortigas on a busy weeknight.) Hire a driver through your hotel, call a tour group operator or hook up with a guide on the beach and make a day of it.

What to do:
Watersports. Parasailing, jet-skiing, and banana boating are among the few activities you can try at Nusa Dua's beaches. Go glass bottom boating, snorkel at a spot of your choice then take a quick trip to Turtle Island. A half-day trip to Nusa Dua can cost as little as $15 per head depending on whom you talk to and what you plan to do. Scuba diving is an option for the certified.

Watch the sunset. The Monkey Temple of Ulu Watu is famous for its sunset view. Built on a cliff and set at the southernmost tip of Bali, the vista is breathtaking no matter what time of day. Monkeys wander around the temple grounds and are considered sacred so play nice and don't harass them. Bad karma.

Surf. Celebrated surf spots are found in Ulu Watu, not least among them the famed Padang Padang. There are several other less known breaks in the area so pack your board – or rent one – and spend the afternoon battling for waves in the line-up. Or lease a motorbike for the day and drive down winding roads with your board strapped to one side, Indo-style.

Spend that money!
Unfortunately, not a lot of shopping goes on in these areas. There are a few stalls and sidewalk hawkers but there is nothing here that you cant buy somewhere else.

Eating:
The best thing to do after watching the sunset at Ulu Watu is to drive to Jimbaran Bay. There are many seaside eateries that offer the freshest seafood. Pick 'em live and watch 'em die!

DUE NORTH: Culture and Karma
After soaking up the sun, steep yourself in the more sedate side of Bali by heading North. Make the same arrangements as with going South but be prepared to spend more time on the road. A full day trip isn't enough to cover all that the Northern end has to offer but if you are on a tight schedule, it's better than nothing.

What to do:
Take a hike. Gunung (Mount) Batur, offers the opportunity to see the sun rise over the island – if you are willing to make the 5,000 plus foot hike to the top. If a climb isn't on your agenda, you can still admire the volcano from the many curbside lodges and restaurants.

Look at the lake. You don't really have a choice if you're already at Mount Batur seeing as to how Lake Batur was formed in a crater after the volcano erupted.

Visit a tribe. From the lake you can take a boat to Trunyan, one of the few remaining villages of the Bali Aga (pre-Hindu Balinese). The people have gotten used to visitors but remain wary.

See some art. The town Mas is crammed with wooden carvings and Balinese art. Watch the masters at work as they turn blocks of wood into intricately designed pieces. The nearby town of Ubud is the heart of culture in Bali. A community of artists have set up shop in this quaint section of the island. The narrow streets maintain the serenity of times past even with the commercialization of the area.

Find yourself in a forest. South of Ubud's central district is the Sacred Monkey Forest. The paved footpaths make for a quiet walk under dense foliage. You don't have to search for the monkeys because they are everywhere. Again, play nice. There's a temple on the grounds that you may want to visit since you're there already anyway.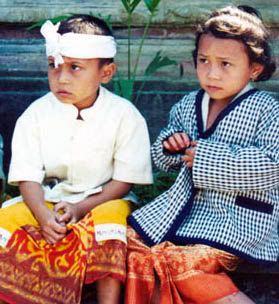 Balinese children dressed up for a ceremony.

If you have time:
Go East towards Amed.

Amed is a isolated village northeast of Tirtha Gangga. It is inhabited only by fishermen and seasalt processors. Amed sea is known as one of the best beaches for diving and snorkeling in Bali. Its coast is very rich and beautiful. Good Karma bungalows.

Not much further away are spectacular Waterfalls. But it is a 20 minute trek through the jungle so be ready to commune with a lot of nature.