Of Art and Aritsans: Puerto Princesa
The good folk at SEAir's In-flight magazine sent me to Puerto Princesa, Palawan to do a piece on the budding art scene there. It was my first time in Palawan – traveling pretty much by myself. I took the opportunity to take day trips from the city and do some non-work related exploring.

OF ART AND ARTISANS
December 2002

There is good reason that Palawan is called "the Last Frontier." Puerto Princesa may have a bustling urban life with thriving businesses and busy market areas but beyond the city limits are lush forests that fight for purchase on its mountains and cliffs, endemic flora and fauna still being unearthed and untamed waters surrounding the islands. It is safe to say that much of its natural beauty remains to be discovered by our dusty feet.
But it is there, one only needs to look.

At the

Rurungan Sa Tubod Foundation

along Abanico Road in the town of San Pedro, women weave exquisite fabrics from indigenous materials. Everything is handwoven with amazing skill. Designers such as Rajo Laurel and Rene Salud have used the intricate textiles. International retailer Calvin Klein has reportedly placed an order for the pina placemats.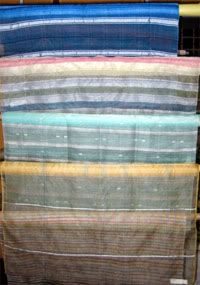 Their beautiful shawls (priced between P1,300 to P2000) have become popular at trade fairs and organic markets.

Further down, a man's hobby has metamorphosed into a small business. Roy Rodriguez, owner of the

Butterfly Farm

on Bunkhouse Road in Santa Monica, showcases his winged jewels in a lovely garden that also serves as a conservation project. The visit begins with a five minute introductory video before you are led into the main area.
Butterflies abound, flitting from flower to flower. Be careful where you step as you may trample on these lovely creatures. There is a modest entrance fee of P50 for foreigners and P25 for Filipinos.

It seems only fitting then that in an area that promotes the nurture of indigenous crafts and endemic wildlife would also spawn a lively community of painters, artisans and musicians. It is not surprising that several artists have found their way to Palawan, its siren song calling them from across the waters. They are captivated by the area, and in turn capture what they can of it on canvass, on cloth, and in songs.

Not all these artists are Palawan born and bred. Several Negrense have found their way to Puerto Princesa. And those whose roots do not take hold on this fertile soil continually return to quench this thirst for inspiration. Susan Tupas, a painter native to Negros, attempts to explain by saying "Artists are drawn here. It's the people, nature… the spirituality that you can feel everywhere. The culture is strong." She should know. Together with her husband, Mitu – an accomplished musician who makes his own higalongs and guitars - they visited Palawan for about six years before finally settling down three years ago. They continue to create from being there.

Dinggot Prieto, an artist as well as owner of the café cum gallery Kamarikutan, calls this elusive element by one word: magic. "Palawan is magic. In all aspects it is a magical world. It sells itself. Artists are always looking for something fresh. There was Baguio then Sagada then Boracay. And now, it's Palawan."

Being part Palawenyo, Dinggot has seen the changes that the island has gone through - from the days when gasul was brought in by boat to the present day urbanization where internet cafes are fast becoming commonplace. Her in-house artists in residence are Mario, who works wonders with terra cotta, Mack Mack, a master bamboo craftsman who specializes in furniture and Pupay who does the beadwork.
Together they all work with what the land readily gives them, each learning from the next and in turn, teaching others. "We all know how to do everything here I think" Dinggot explains "Art I think stems from a collective consciousness. And it helps to be near others who understand your passion to create."

Artists that have come to the fore continue to support the growing fellowship of artisans. Among their merry band are Diokno Pesigan who sometimes uses Rurungan Sa Tubod's fabric for his paintings and the Manunggul Arts Group. Artist Jonathan Benitez, watercolor painter Dan Habaradas, and musician-artist Pat Marquez. Musical group Sinika led by stalwart environmentalist Nonoy round off the list of growing names in the local scene.

But despite its phenomenal growth, the Palawan art scene is still in its infancy. It is still going through birthing pains, learning how to walk through the tricky business of art in an island set so far apart in both lifestyle and geography.

The scene may be in its childhood - the first age of art so to speak - but regular workshops, visiting artists and an increased awareness will surely push the envelope of artistry within this community. It is art begetting art in a circle that grows ever outwards.
In the dance between man and nature.