Baler, Aurora
Baler, in the province of Aurora, is one of the more popular surf breaks in Luzon. It is an 8-hour bus ride or 5-hour private car drive from Manila and home to one of the most fun set of local surfers I have come across. They have a two fiestas each year -- the Suman Festival in February and the Coco Sabutan Festival in August. Both are equally enjoyable to be at. Okay... enough back story... read on about my first thoughts about meeting Baler.
Feb 20, 2003
The Sierra Madre mountain range in itself is an unexplored natural wonder. Creeks cut through rock and vines choke the sullen soil. Fog carelessly drifts through peaks. The roads are unpaved and from the moment you cross it, it will another two hours before the next pit stop. At the end of this bumpy ride – nine hours from Manila – lies Baler, the capital of the province of Aurora. And one of my favored travel destinations.
Embraced by the mountains, the ocean crashes into itself before petering out to kiss the shores. Trees crowd each other, rising steadily along the mountainside, their line broken only by a sky that seems to sit along the cliffs' highest points. There are mornings when the clouds descend low enough to cover even the smallest of these hills. It feels trapped in time –something about the stillness of the air I think. Small wonder that Francis Ford Copolla chose to shoot classic scenes from Apocalypse Now at one of Baler's rivermouths (now called Charlie's Point). Taking a boat out to explore the rest of the area confirms my initial suspicions about Baler -- all around you, there is beauty so raw it almost seems savage.
The first time we went we just hung around the area where we were staying. I remember the first time I paddled the beach break. The salt water was meeting with the run-off from a nearby river because of a recent storm. There was a rainbow hanging on the horizon. The gentle undulation of my board beneath me. Watching as a wave passed under me, picking up speed... cheering as a friend caught it and rode her board to shore. I caught a wave too but only after eating it so many times in the white water. Damn, that white water can be a nightmare.
We had morning and afternoon sessions… waves were really good to learn on… so long as you got past the white water. (I need to get over fear of white water, fear of wiping out and getting hurt. Because I know that the fear in my head is getting in the way of me getting better.)
That's what Baler is all about -- surfing sessions, followed by cold beer and fantastic food.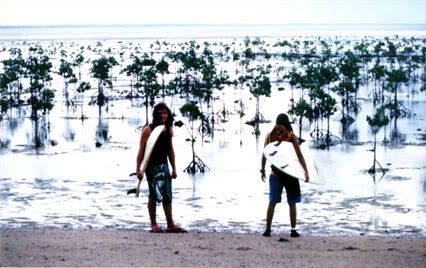 About a month later we returned to our new favorite haunt... and that time our local surfer friends took us on a boat trip to this cove an hour away from the main town. A little slice of paradise -- it's actually two small half moons that form two coastlines -- on one side there's this lovely beach with a little river off to one side... a river that empties into the ocean to boot. On the other side is where the surfable waves are... at high tide. Thing is we got there at low tide. Sigh. But it was still a lot of fun because there are a couple of caves connecting both coves.
We wandered around picking shells, taking photos while others took care of preparing lunch. We returned from our exploring to find grilled chicken, porkchops, tuna, veggies and rice... piping hot and smelling fine. A lunch that we ate by the riverside, using our surfboards as impromptu tables. The river was really cold… we kinda just sat in it literally chilling out. Swam a little too in the ocean. Took more photos then headed back to town thinking if we made good time we could still have a late afternoon surf sesh. Except that we got back too late... and it was too dark to try to surf.
I left the next morning... on a cold bus traveling in the morning light... going past the mountain range again... watching as the forest gave way to highway... leaving my savage little world behind and returning to the concrete jungles of Manila.
My Baler Galleries
have loads of photos from various trips there.
http://www.batangbaler.net

The official Baler website
> is also a great resource... done in the irreverent tongue-in-cheek mischief that marks Balerians everywhere.