PANSUKIAN
* this is an article I wrote about Pansukian resort. It came out in FHM Philippines summer of last year. It should come as no suprise by now that a bulk of the travel articles I've written in the past two or three years are based in Siargao. But I swear, there are other articles out there that are not about the island... you'll see.

PANSUKIAN
By Kage Gozun

You and your girlfriend may not have broached the topic of marriage yet. That could be light years from your collective couple's mind. But that doesn't mean that your future wife hasn't been carefully planning out your wedding… and your honeymoon. (Get a clue boys – most women are like this from the time they hit puberty.)

While sipping champagne on a yacht and sailing around the world sounds ideal, most women know better than to be delusional. But it is advisable to be prepared. Have some ideas of your own. Or you could end up spending your post-matrimonial nights at a spa resort taking meditation classes. Just turn your honeymoon thoughts turn south. All the way down to Siargao, Surigao del Norte to be exact.

WHERE TO STAY:
Although most known for its impressive surf breaks, the enchanting island of Siargao is also home to a romantic retreat. Hidden amongst a coconut plantation, wooed by a nearby lagoon and nestled beside an immaculate beach, Pansukian is a hedonistic heaven.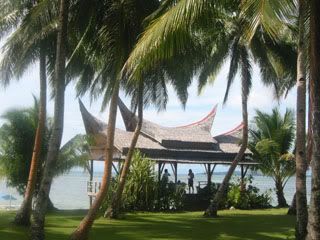 The resort has nine cottages, guaranteeing seclusion. A private veranda and hammock further ensures privacy from prying eyes and/or annoying neighbors. No loud bars, no noisy parties and no irritating vendors hawking souvenirs. It is, for lack of a 70-foot yacht, a couple's answer to a call for paradise. Sounds a little cheesy to you? Believe me, the missus will love it. Pack light. You'll both be spending your honeymoon in some state of undress.


GETTING THERE:
There are several routes to Siargao through various carriers. The longest course takes 32 hours by boat. The best way to the island is a flight to Cebu and then a connecting flight to Siargao. Approximately 3 hours until you can carry her over the threshold and get naked. Pansukian can arrange for airport transfers as well.


WHAT TO DO:
Sex is a great aerobic workout. But surely at some point you'll want to see the rest of the island, right? Leave your bedroom long enough to let housekeeping wash those (rumpled) stained sheets and explore. You need to have some photos that you can show when you get home.

Surfing and scuba-diving are activities not for the faint of heart. If you decide to skip the adrenaline rush, check out:

Island hopping – Hire an outrigger boat and explore the surrounding islands. Snorkel in water so clear you'll think its glass. If you want to be cheesy, erm romantic, hold hands while you're at it. Then sit down to a picnic-for-two, rest up then, if you're still feeling outdoorsy, take a short climb to the top of the hill for a photo-op view.

Kayaking – Remember that Bench commercial from way back when? Now you can do that too. Only you'll be much cooler because you get to do it through a mangrove forest that leads to a salt-water lake.

Look for Crocodiles – The Del Carmen swamps are home to Steve Irwin's favored animal. If you're lucky you'll spot some basking in the sun. Remember not to make references about your new mother-in-law. There will be time enough for that once the honeymoon is over.

Shell Collecting – Self-explanatory. Walk along the beach, collect shells. Give them as souvenirs if you're too cheap to buy pasalubongs. (but really, you aren't supposed to do this... it's bad for the environment and illegal)

Deep Sea Fishing – Fishing in Siargao means facing off against sailfish, jacks, and yellow fin tuna. A manly activity that should boost your testosterone levels after all that shell collecting.

Most, if not all, these activities can be scheduled through Pansukian resort.

KICK YOUR KINKS:

The more adventurous honeymooner may want to attempt doing the deed al fresco. Although the clarity of the ocean doesn't provide much cover, the creative will find ways to sneak a little action while caving, climbing or even picnicking on the beach. Plus, the warm waters of Siargao island are perfect for that "midnight swim."


For more information of Pansukian and Siargao Island call the Surigao del Norte Provincial Tourism Office: +6386 231- 9271

For inquiries concerning Pansukian Resort contact Travel Vision. Tel. nos. (+63-32) 234-1282, 234-1613; fax no. (+63-32) 234-1463