La Union Long Weekends: 2
Due to Ramadan and National Heros' Day, we were given two long weekends for the month of November. And due to Mother Nature's rather capricious um, nature, we were also given good conditions for surfing. So off I went to La Union twice this month -- yay!
Trip Two (Nov 28/29) had me, Noelle and Didoy on what we called our semi-adventure trip. With no room in any of the mangers, we were pretty much resigned to living out of Didoy's car... and looking forward to a cool and breezy night sleeping in a tent we planned to pitch on the beach.
Instead we find out that, at high tide, the water comes up to cover the entire shoreline... and other plans must be arranged for the evening.
Highlights from this particular weekend: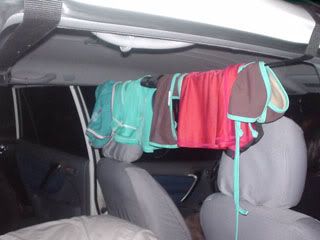 - Living out of the car. Nothing like hangin' up your damp bikini across the inside strap of a soft rack and letting it air dry.
- We made plans to head over to Bacnotan an hour after we arrived in San Juan. A lot of people were telling us not to as the circus was going to be there -- loads of first-timers and crowded line-ups. Thing is, didn't really see us as having much of a choice since the beach break was all blown out and I'm not skilled enough to charge the Point when it's overhead. It turned out to be fun after all. A lot of the first timers were at the shoulder... and most of the local boys were there as well, giving lessons... which pretty much left the peak open for everyone else. I had two major wipe-outs... one where I thought my lungs would burst from holding my breath and tumbling underwater. I also caught fun rides -- nice, smooth, long ones where I internally whooped and did mental Indian Warrior Princess dances.
- Seeing Alex again! The last he and I had any quality time with each other was over two months ago and it just felt good to finally catch up with him. And he had one of the best stories to tell me... which I listened to raptly while La Union delivered another one of its beautiful sunsets. I kid you not, these are gobsmackingly amazing sunsets -- it goes pink then orange and it just burns. It looks like the ocean is trying to drink the sky. And there I was ... without a camera. But see, sometimes, it's the photographs in your head that are the most precise.
- The fried chicken at Angel & Marie's place (Surfer's Retreat). Go and try it.
- Pitching the tent ... on the concrete driveway in front of Viva/Buji/Earl's place. It was funny because 1) it was a GIANT tent and it took up nearly the whole width of the driveway. Insane. Who makes tents this big?! and 2) as we hadn't planned to sleep on concrete none of us had earth pads or mats... I dragged my board bag in to add a little cushion to the floor but it wasn't quite up to snuff.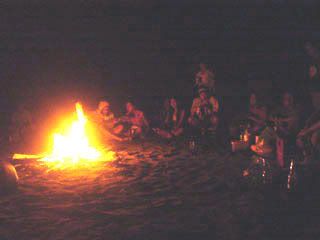 - Sitting around another fire. Listening to my cousin Inky jam with other percussionists. Cat and Pao came by later on in the night and brought out the zips. Cat looked awesome zipping by the firelight. Had she been wearing fairy wings she would have looked like something out of a

Gaiman illustration

. The problem was that as more and more people arrived, it began to feel more and more like Manila... and less like La Union. That coupled with having surfed all day forced me to retreat to my giant tent ... where I eventually drifted off to sleep... lulled by the sound of passing buses and vehicles.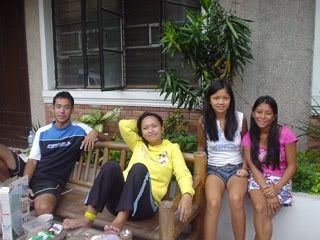 - The next morning... waking up to brewed coffee courtesy of Joncy who was living at Becky's apartment which was right in front of our giant tent. (Yes, hello run-on sentence! Lost your punctuation marks did you?).
- An overcast morning session at Bacnotan again. Cleaner rides. No death-defying wipe-outs. And the first time I ever walled a wave in my life. (Cue sounds of marching band and the falling of many many bits of brightly colored paper).
We left La Union at 4pm. I let Adam Levine's sexy voice lull me to sleep. The suddenly pouring rain woke me up when the soft rack began leaking. Ten hours and two stop-overs later we got back home to Manila. Half my ass was wet from the leaky rack, my blanket soaked through, the smell of damp car clinging to my clothes and an ache in my bones from being cramped in the car.
The weekend had been worth it.