Return to the Island: Siargao 2004
Millie asked me to do a small piece on, what else, Siargao. A personal point of view on an island that we both love to bits. I think this piece is coming out in zine she's publishing. If you were there this year... hello from the two of us! If you were there the year before, we missed you this year. If you've never been but plan to go... maybe we'll see you then.
Siargao 2004

I've been visiting Siargao for the last five years. I feel like a displaced Manileyno... the city holds nothing for me when compared to the promise of the ocean. Every year I live for my Siargao trip. Never mind that I am not from the island or even related to anyone who lives there. Never mind that prior to the year 2000, I'd never even heard of Siargao, much less been on a surfboard. The bottom line is: every time I set foot on the island, it feels like I'm coming home.

This year I was on the island from September 21st to the 29th.

Originally it was supposed to be til the 2nd of October then I had to cut it back to eight days. Then on my seventh day, I got antsy and I realized that it was going to take a team of wild elephant seals to make me leave the island... and I ended up staying for nine days... and it still wasn't enough time.

We watched the surf comps where you could totally see that the level of local surfing has shot up... those boys were just ripping in the water. We went on a few boat trips but since

I didn't bring my board

, ended up surfing only once... but hey, better once than not at all. And that one session was really enjoyable. Just me, Paolo, Allan, Kerwin and another group of about four guys. Eight people total in the line-up... nice.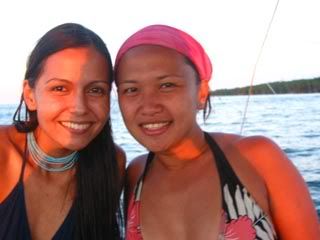 Cat and me at sunset on a boat in the middle of the ocean. Good times.
We hung around Ocean 101 a lot, just drinking mango shakes, reading borrowed books or watching surf videos. At night we would down cold San Miguels while listening to show bands. Or we'd just sit in front of our room, listening to the silence and going over the day's events. We were often in bed before midnight so we could rise with the sun.
In the morning stillness, we would see surfers coming in for breakfast, hungry from their first sessions... already thinking of their cheese jaffles or scrambled eggs. Or boats loading up with boards, surfers headed off towards breaks that they hoped would be uncrowded. The late-risers would be heading out to catch what was left of the swell before the noon tides changed.
The days melded into each other and it came to a point where we could no longer tell if it was Monday or Wednesday or how long we'd been wandering around Siargao.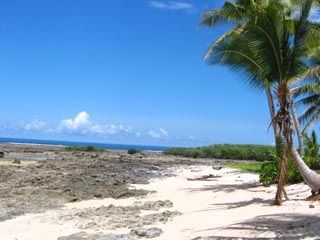 Millie and I 'discovered' a beach near Ocean 101 and named it

"Herbert Beach"

for reasons only she and I will ever truly understand. It became our little swimming spot... a place for us to muck about in between shooting the competition and planning boat trips around the island.

There was that one morning that we rented a boat to take us to Bucas Grande so we could swim with stingless jellyfish and be awestruck by the scenery zooming past us. The guys climbed inside one cave and jumped straight down into the water... while a less-brave me sat in the banka and took photos. The water was so clear you could see straight to the bottom even at depths of what we estimated to be about 30 feet. Lunch was grilled fish and rice. Eaten with our hands while sitting in a hut that we pretended was ours.

I remember laying around in Millie's hammock one afternoon while Weng and Noel grilled fresh-bought tuna in the garden. Later some of us - mostly new friends we'd met that year - took a boat to Magpupungko in Pilar to jump in the tide pools and terrorize the fishies. In a word: stunning. It didnt matter that I'd been here the year before... or that I had also lost myself in the beauty of Magpupungko.

Not to be cheesy but it felt like I was falling in love with Siargao all over again. Because I do love that island and often tell people that I am having an affair with it.

I've mentioned this before I think but one of the things I truly love about going to Siargao is that it is feels like one big reunion for a lot of people. You see surfers from all over the country as well as the locals that, by now, have become our friends as well.

And I meet so many interesting people ... most of them tend to be very laid-back... and by the third day, an informal commune of mixed races sort of just naturally happens: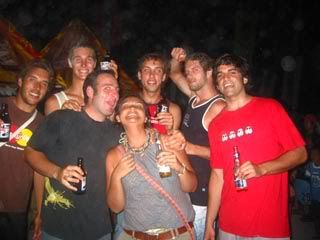 Pinoys, Israelis, Aussies, Brits, Swiss, Brasilian and Kiwi

... everyone just hanging out and enjoying that natural island vibe. Some of them old friends made from trips past... others new acquaintances that could become old friends in the future.

So days blended into each other as they are wont to do ... and I forgot all about my life waiting for me in Manila. But as much as I would have liked to stop time, I couldn't. And there came that day that I had to leave Siargao. Bags packed. Bills settled. Emails traded. Hugs shared. One last visit to Cloud 9 for the year. One last sip of mango shake. One last look at Rock Island from across the ocean. Time to go.

While waiting for the ride that was going to take me away from Siargao, I started to feel restless. I thought maybe I'd left something, so I checked our room again. Then I worried that maybe I'd
neglected to leave enough money. But I had. It wasn't until I was waving goodbye from the back of the habal-habal that I recognized the feeling for what it was... sadness.