Siargao 2003: gist
* taken from a mass email I sent out right after I got back home. Portions of this will be coming out soon in a self-published webzine created by Millie and Bjorn.
I was in Siargao from September 23rd to the 30th... doing my now-annual pilgrimage to my favorite island. Spent eight wonderful days there, the most time I'd ever spent there. This year I went with Tals. It was her first time on the island, and as expected, she fell in love with it on our very first day.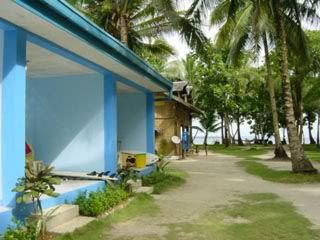 We stayed at Ocean 101 and I have a feeling that next year, that's where we'll stay again.
I watched the surf comps... surfed once (at Daku on the day that it was triple overhead at Cloud 9... a day when 17 boards broke in the morning. Daku was overhead, the biggest we'd ever seen it. I caught one wave that carried me a good 200 meters away from everyone else)
... there is a surf movie named Big Wednesday and that was what we were all calling that fabled triple overhead day on the island. Of course, it was pure fate that this said swell happened on a Wednesday. Lui and I were the only two people at the tower that morning who had cameras. He had a videocam, I had my trusty Nikon F-60. The result of which was

this money shot

that I snapped in the first half hour we were there.
... lay around in a hammock reading a book about the Incas... collected sunsets... had quiet nights... and also nights dancing to bad show bands in the town square...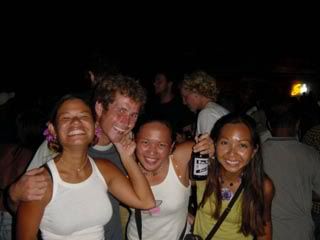 cold san migs played a big part of the trip... as did smokes... and freshly brewed coffee... this one guy (Bubut) who was staying two doors down from us brought his own grinder, press and heating coil... so on the mornings when we would catch him, he would make us fresh coffee
... the mornings are so peaceful... just drinking in the stillness of the day and hearing the waves crashing from Rock Island... seeing various surfers either back from a really early morning session making their way back for breakfast... or late risers hurrying to catch the morning swell...
... we took a boat trip to Naked Island... nothing but white sand, seabirds, shells and crabs... we took a motorbike ride to Magpupungko where, at low tide, natural swimming pools filled with corals are formed... we would walk along the rock floor (which is actually also a kind of coral formation but at low tide that becomes your floor)... then we'd pick a tide pool to jump into and just swim around looking at the fish that had gotten trapped in the low tide...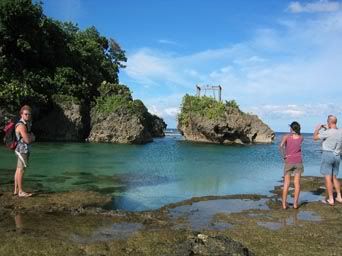 some of the pools were so deep we couldnt stand... others shallow enough to walk around in... Tals and I would sometimes catch ourselves just staring all around us, blissing out at how awesome the experience was
... it felt really good to be walking around on my first real day there and hearing people go "uy kage! you're here na. when did you get in? where are you staying?" and to see the kids who only last year were smaller than me and are now taller than me... strangers become familiar faces... familiar faces have become friends...
... and you meet so many new and interesting folks as well... everyone is so laidback... by the third day, we'd built an informal commune of mixed races: pinoys, israelis, ozzies, brits, and kiwis...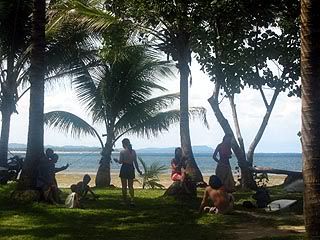 "the dress code was half-naked... the vibe was chill out"
... surfers, capoeiristas and beach bums should populate the world... I think it would for a much better place... Tals and I taught some kids a few capoeira moves as well... and by the fourth day we had somehow been adopted as the leaders in their merry band of lost boys... they even passed by the day we left to say goodbye... I nearly cried... they carved Tals' name on a tree... which nearly made her cry as well
... I thought 8 days would be more than enough time for me... I was so wrong.
So there you have it. The unedited... totally not in paragraph form version of my most recent trip. Sorry I cant be more coherent about it... it's still hard for me to put my thoughts into a straight line...