DESPERATELY SEEKING
SIARGAO...
After each Siargao trip, it becomes only inevitable that I write an article about some aspect of the island for some magazine. This one came out in the Jan-Feb 2004 issue of Preview magazine.
photos courtesy of Kage Gozun, Natalia Diaz and Cat Juan.
Siargao defies description. It is the anti-thesis of Manila. So you've been to Boracay and you've watched the sun set beside Willy's Rock while you sipped on your mocha rum shake. Good for you. That still cannot come close to the beauty that is Siargao.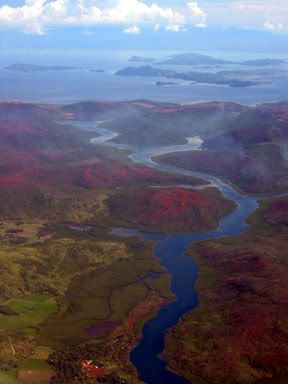 Lazy barrios dotted with sari-sari stores, the occasional chicken and the ubiquitous basketball courts pepper the length of its dusty roads. Walls of trees fight for soil on hillsides. Paddies carpeted in green, give way to cranes and egrets that hunt for fish among the stalks. Around one more bend, across one more dirt bridge, and you come upon the mangroves, tiptoeing in the brackish water. Further along, the locals have decided to move off-shore, choosing to build huts, simple in design, on stilts over the ocean, connected to each other and to the shore by planks. An outrigger boat takes you to various islands that promise aquamarine pools, tropical fish and stingless jellyfish. It is the mundane infused with magic. How can you not fall in love with the island when it has so much majesty to offer?

****

Surfing

It would seem odd to make the trip and not bother to try your hand at surfing. The more experienced and brave choose to charge the famous Cloud 9. It is a world-class wave that delivers an adrenaline rush akin to certain scenes in Twenty-four Hour Party People. In contrast to Cloud 9's heavy wave, the mellow swell at Dako, just offshore from the same named island, is ideal for the less initiated. The addicted can also explore the several other breaks that go off all over the area. Some are well-known and can be found with the help of a local, others so secret that locals will pretend to not know what you are talking about.

White Beach

The idyllic lull of the island can create states of absolute torpor. Indulge in that feeling with a short walk to White Beach at high tide to swim and sunbathe in calm waters. It's time you left that hammock!

Guyam Islet and Naked Island

Guyam Islet, a 27-kilometer stretch of white sand embraced by turquoise water is good for a swim, a picnic lunch and a lazy day under palm trees. Once you've rested from doing nothing, head towards Naked Island, where more white sand, seabirds and a few hardy vines wait to greet you.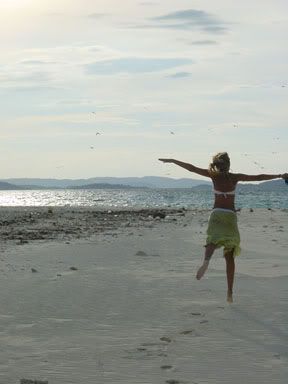 Nudity on Naked Island, is of course, not mandatory. Besides, you may want to protect your precious behind from the scorching rays of the afternoon sun. Instead, might I suggest chasing after sand crabs and collecting shells that have washed up on shore?

Bucas Grande Island and Sohoton Cove

A little over two hours away by boat, the full day jaunt is a chance to just bliss out and be one with nature. An exploration of "Bolitas Cave" so named for the little, erm, balls that can be found littering the cave floor is on the agenda for the intrepid tourist; as are swimming with the stingless jellyfish and snorkeling in water so clear you hardly really need to use that mask and snorkel. Then there is a cave opening that becomes accessible only at low tide. A quick dive through it and you surface in an underground lagoon where the light that bounces across the domed walls that stuns even the most jaded beach bum. I dare you to not be awestruck.

Magpupungko, Pilar and Taktak Falls, Santa Monica

Plant your heinie on a habal-habal and take off for Magpupungko in the town of Pilar, where low tide creates pools you can dive into. Enjoy swimming in what feels like your own private aquarium while the waves crash the shore only meters away. Pack your own snacks, take your own drinks and, if you are up for it, bring the necessary gear for an inihaw lunch set against the surrounding limestone and granite structures. If it's flowing water you are after, take that habal-habal over to the town on Santa Monica and stand underneath the gentle rain of the Taktak waterfalls.

Kayaking through Mangroves

Care of the Surigao Island Surf Company or Pansukian Resort, you can arrange to do a remake of a clothing brand's now famous commercial. Kayaking through the mangroves brings you closer to the creatures that make their homes in the brackish water. And makes for wonderful vaycay photo-opps as well.

These, of course, arent the only things to do in Siargao. Deep sea fishing, scuba-diving and more boat trips are among those other options. But since part of traveling includes creating your own adventures, we'll leave it to you to find out what else is in store for you on the island.

****

WHERE TO STAY:
A small sampler of resorts from budget backpacking to big time spending.

CABUNTOG RESORT:
If you plan to blow a chunk of their budget on getting to the island dont worry, you wont need to pitch a
tent on the beach or sleep under the stars. Cabuntog offers very clean and comfortable rooms.
Room Rates:
Dormitory: Php165 per person
Cottages: Ordinary Php880 per room , extra Php200
per person
Deluxe Php1650 per room, extra Php200 per person
Contact Information:
Tel No: +639195021662

OCEAN 101
One of the newer resorts, Ocean 101 has comfortable rooms, excellent service and the most sulit bathroom I have yet to come across in budget traveling. The restaurant also doubles as an unofficial lounge where guests mingle and talk about their days. Be sure to order the Shaksuka for a culturally nutritious breakfast.

Room Rates:
Ordinary Rooms (double bed): Php500- 600 a day, Php300 a day (monthly rate)
Airconditioned room (double bed): Php800-1000 a day, Php600 a day (monthly rate)
Contact Information:
Tel no: +63919-8268837

SAGANA BEACH RESORT:
The affable trio that own and run Sagana ensure only the best for their guests. Their cottages range from earth-friendly (down to the dry composting toilet) to fun-for-all (large enough for families with small children). The grounds of the resort are immaculate and the restaurant more than inviting.
Room Rates:
Small non-airconditioned room for three: Php1,500
Airconditioned rooms for four: Php2,000
Contact Information:
website:
http://www.cloud9surf.com/
email: sagana@cloud9surf.com

Cloud 9 Resort
A stay at this resort gives you front row seats to the island's most famous break. And access to the best pork chops around to boot! The grounds are well-maintained and remains a favorite of return guests.
Room Rates:
Cottages: From Php 800 to Php 1,200

Pansukian
Ideal for honeymooners and couples still in the throes of love, Pansukian still boasts the classiest digs in town. Frequent visitors of the island often stop in to sip coffee and sway in the resort's to-die-for hammocks. All cottages have airconditioning and ceiling fans, private patios, queen-sized beds and, of course, hammocks. As a guest of the resort, you are entitled to use of all their facilities as well as all meals.
Room Rates:
Garden Rooms: From Php 5,000 to 7,800
Pagod Rooms: From Php 5,000 to 10,400
Contact Information:


Pansukian Resort's Offical Website

****

For more information on Siargao point your mouse and click to these websites: