El Nido, Palawan
December 26 - 30, 2003

My cousins and I (a merry band of four hooligans between the ages of 14 and 30) along with my mother and her two siblings took off for Lagen Island Resort in El Nido Palawan for four days of indulgence and adventure. I like the sound of that ... indulgence and adventure... sort of the best of both worlds.
We were cosseted and pampered... hardly lifting a finger... it was as far away from my usual budget trips as possible. No sharing a single bed this time! No need to figure out if it would be cheaper to split a big dish or order small meals!
Highlights included:
-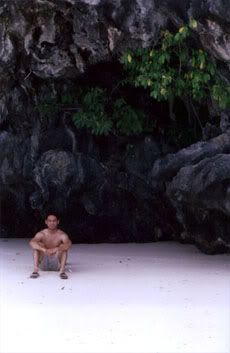 Seeing hornbills, egrets and other birds right outside our rooms... (one cousin claims to have seen a monkey). And that one time a monitor lizard crossed our path by the pool... daring us to shoo him away.
-Kayaking with the open sea to our right and sheer cliff walls to our left... fifteen minutes later arriving at a hidden cove where we rested, lay in the sun, snorkelled and played catch up with each other. The last time I'd seen my cousins was over a year ago as they live in the States. The youngest had grown up so much in that time and it was great to hear him chatter on about his take on life. His sister was just about ready to go off to college -- complete with the excitement and trepidation of the almost adult. Our other cousin, the eldest that day on our little cove, has always been close to me... and for us to be able to spend time together was great.
-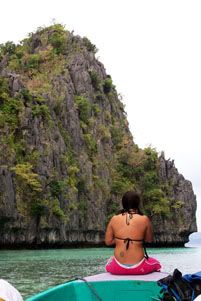 Taking the resort boat to different spots all over El Nido to swim, kayak and snorkel. Lunch was grilled fish and pork with rice... followed by fresh fruit... and a short siesta under the trees.
- Listening to the wind at night while sitting on our outdoor porch... drinking beer and sneaking cigarettes... keeping an ear open for the chatter of our parents ... all of whom were also playing the catch up with each other game... everyone sharing the warm feeling you get when you are surrounded by family...
-Diving right off El Nido Resort's pier. It had been a good four years since my last dive. And it was my cousins' first time ever. Lion fish hung suspended in the water, deadly in their beauty. A moray eel poked its head from under a coral while not two feet away Moorish idols zoomed past in search of their next meal. The now-famous clownfish wove in and out of their anemone homes... one bravely attacking my mask when I dared to get close.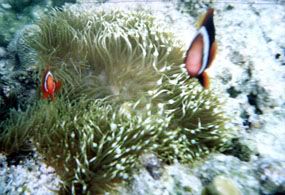 All around me was proof of God's hand - the architecture of the coral reefs so amazing that it would be foolish to think it purely coincidental.
All in all, El Nido - what little we saw of it - was breathtaking. The craggy cliffs and unhemmed foilage. The endemic wildlife that treat you for what you are -- an invader in their homeland, someone to be tolerated but not pandered to. It felt like paradise, it looked like paradise... and for those four days it
was
paradise.
For photos browse on over to my
Palawan Photos