PLUGGING...
1. The Shoot/The Photographer
Last Saturday, some friends of mine and I had a "for fun" shoot. We decided to use "Hollywood" as our theme and "Glam" as our mood. The results of this three hour session proved beyond a shadow of a doubt that dancing for the Company of Ateneo Dancers has turned all of us into serious cam-whores. Haha. But in a good way.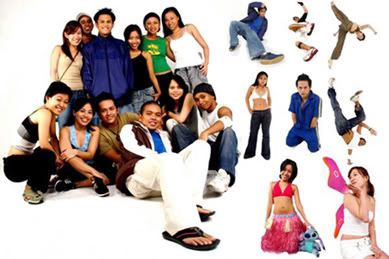 Those photos and others are viewable on
my online gallery
and were taken by a very gifted and talented young photographer named
Aaron Vicencio
. And I'm not just saying that cos he's my "son." Check out his work and see for yourself.

2. CAPOEIRA
My friends know that I've been addicted to this Brasilian art of fighting but I haven't really blogged about it.

Born from the era of slavery in colonial Brazil, integrating a unique approach to motion, music, philosophy, CAPOEIRA is a truly distinctive martial art. Often described as a fight/dance hybrid, the art is, ultimately, a game. It involves motion and music... body and mind... and has been one of the constants in my life for the past three years.


Escola Brasileira de Capoeira
Philippines teaches this art in different venues around Metro Manila. We recently just had our second graduation event and our first major show. EBCP will also be performing at the Fete Dela Musique on June 19, 2005 with
Planet Zips,
Pinikpikan and a whole bunch of K-honistas at the Main Stage.

3. BROWN BELLY

Noelle and I started Brown Belly over a year ago and it's taken us quite a while to really get our stride. We continue taking baby steps in the direction of our ultimate goal: world domination. Haha. Well maybe not cos if we ruled the world we wouldnt have time to go to the beach, travel the Philippines or play capoeira.

So we'll settle for this -- you guys ordering our "beach inspired chick gear."

We finally finally finally have our
Official Website
live online. It's a work in progress... as we have more product shots to upload and some text to tweak but the basic idea is right there.
All for now... I'm going to go and daydream about living on a sun-drenched island being pampered by hot cabana boys that all look like Brad Pitt, Ian Somerhalder and the Olympic Swim Boys.