In the Shadow of Mount Banahaw
My crew hadn't been on a proper out of town trip in too long. The last one that comes to mind is our Boracay trip three years ago. And even though we do regularly see each other in the city to hang out, it isnt quite the same as being able to haul everyone to some distant locale for some special down time with one another.
So we planned something. And finally, finally, finally... we managed to put a plan into motion.
The Kinabuhayan Cafe in Dolores Quezon was the perfect place to bring two kids (ages 4 and 5) and six kids-at-heart (ages 24 to 28) for a short weekend away from Manila trip.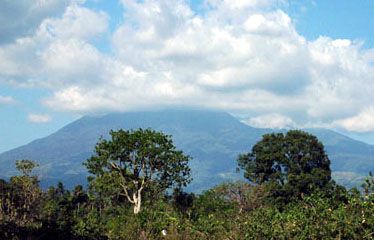 Mount Banahaw, considered by many as a sacred place, looms silently in the distance.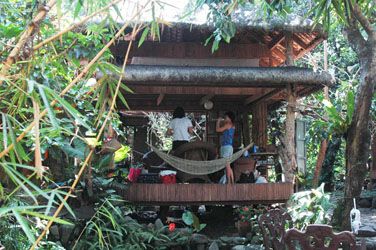 Our hut was an open-air deal with a living room (hammock included), semi-enclosed loft and cable tv.
Our meals were gourmet dishes crafted by a genius in the kitchen (think risotto and herb-roasted spicy chicken).
Our first day was spent exploring the nearby river... chasing after elusive red dragonflies and grasshoppers... cooling off in the icy waters then drying off on the rocks.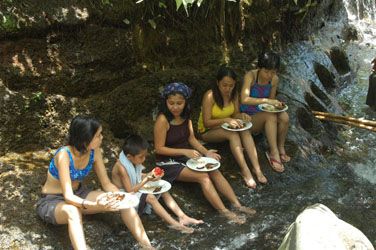 Our lunch was served al fresco, to be eaten with our hands while we let the river babble by our feet.
Our second day was supposed to have been spent on a trek through the foot of the sacred Mt Banahaw. A trek that was going to include a dip in the waterfalls, scenic photo-ops and, because of a particularly bug-crazy godson, chasing more dragonflies.
Instead we took our time sipping coffee, slowly turned the pages of our books, and lingered over the morning meal until it was almost too late in the day for the trek. But we drew out that second day with short naps in the hammock, a game of mah-jong, channel-surfing and playing with Kinabuhayan's resident animals (two dogs, a cuddly cat, a duck and 8 puppies). The trek would have to wait for another time.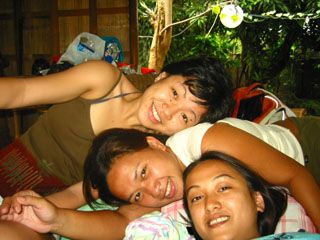 We were having far too good a time doing nothing.
Til the next peaceful weekend in the shadow of Mount Banahaw! '
For anyone interested in checking out Kinabuhayan Cafe:
Contact: Winston at 0917 327 1106
kina_cafe@yahoo.com and http://klar.us/kinabuhayan_cafe
Pre-booking necessary!