Summer Cometh...
February 28, 2005
It was lunch time on a Friday afternoon and I stepped out of the house and felt the sun just beating down on me. It was a holiday -- in celebration of the first People Power Revolution -- and I had planned to do stay home laying around in bed until it was time to go to capoeira rehearsals. Then, Regine, texts me to say "the pool beckons." Hmmm... lounging in bed versus lounging by a pool? No contest.
And so we spent two hours of the early afternoon slathered in coconut oil, sipping cold San Mig Lights, baking in the sun... occassionally dipping into the icy water to cool off. We were so relaxed we almost didn't want to get up to go to rehearsals for the show. Almost.
We (reluctantly) got up... got showered... hauled ass to RCBC Plaza... and were probably the two most chillaxed people there.
Of course we did it all again the following day.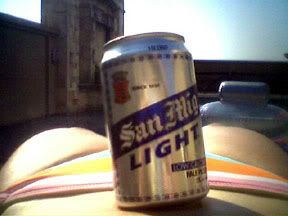 Regine contemplates Dark Tanning Oil vs Tan Amplifier
Saturday. Miguel floats around on Jay's new chair.
Have you started getting into "summer mode" already?