Confessions of a Shoe Whore
Remember my friend Jenina? The one who calls me a Shoe Whore? Well, this is a piece I wrote for her when she was still on the staff for Preview. (Cat -- gwaps... I found the piece!)
SHOES AND TRUE LOVE

Some women look for true love. I go shopping for true shoes.
See, finding the perfect shoe is like trying to find the right guy. You have to go through a few heels before you find the right fit. I figure a shoe should be like a good date – comfortable, relatively inexpensive and makes me looks good. So I buy shoes whenever I see a pair that catches my eye. Unfortunately, that's fairly often. It's a disease. That is the only explanation I have for it. To date, I have loved and sometimes regretted loving, about 60 different pairs.

I am the Shoe Whore

.

I envy the woman who can live with one pair of black boots. How does she do that, make that kind of commitment? There are so many choices to make. Do I want one with a chunky wedge heel or a Cuban one? Should it zip up the side or strap across the front with velcro? Snub toe or tapered? Leather or pleather? The solution of course, is to play the field. Get one of each in every permutation known to shoe design. The best thing about shoes is that they never ask you to make a commitment. And they never get jealous of time spent with other pairs.

Much like your past relationships, the pair you choose to wear says something about who you are. Square-toed Mary Janes equals casual. Flat leather thongs takes the mood up a notch. And the 3-inch embroidered silk heels with an open toe totally implies your date is hot enough for you to endure the back pain of an entire evening spent cantilevered. Of course, if you can't be bothered, there's always those sensible white canvas sneakers you've owned since Tretorn first hit the market.

Maybe one day I'll be walking inside the mall and see a pair and just know that that is the shoe for me. Maybe I will try them on and realize that I don't need to look any more. 'Til death do we part. What retail shopping put together let no Mr Quickie make asunder. Heart, body and sole.
Until then, the search for true (shoe) love continues.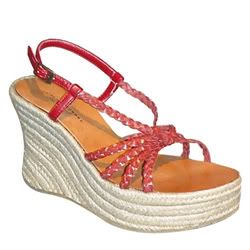 I recently saw this pair online at Chineselaundry... and my heart went pitter-pat. Me wants these sandals.
PS: This is no longer part of the article I wrote but it kind of ties in. It's a blog I wrote on my Crew's private site.
The Shoe Whore Strikes Again
The Shoe Whore is walking around a mall, window shopping. At Kenneth Cole she notices a pair of rust-red 3-inch heels flirting with her. She glances out of the corner of her eye. Yep, those heels are definitely trying to make eye contact. Caught up in the moment, she responds, even if she know how dangerous it is to throw this kind of buyer caution to the wind. The risk pays off: she and those heels are a perfect fit.
It was as if the universe wanted them to meet.
How else do you explain why she walked into Kenneth Cole, a store she does not frequent? Ah, but as with all great love stories, tragedy must strike. Fear and doubt rear their ugly heads. The Shoe Whore becomes wary about committing that much money on the heels. The heels beg and cajole to no avail. She leaves Kenneth Cole ... knowing that it would only be cruel to cast a last glance over her shoulder.
And while she congratulates herself on her resolve (it wasnt the right time after all... what with half of her Christmas presents unbought), she cant get those heels out of her mind. When she closes her eyes she remembers... how the leather felt under her fingers as she clasped those straps around her ankles. She remembers how the gently arching slopes of those soles cradled her arched feet. And the longing is almost unbearable.
February 3, 2004: She is walking in another mall. Her friend decides to duck into a Kenneth Cole outlet to check out the sale. She follows... and yes... there they are... on the first display shelf... the heels that she walked away from. In her size. In that same rust-red color. The last pair in the store, she is told.
Knowing full well she has been given a second chance, she tries them on. It feels better than the first time. A credit card is whipped out... and the rest... the rest is just a detail...
So gentle and constant lurker -- tell me about the shoes you are having an affair with...