Indulge In the Amandari
April 2005
This feature on the Amandari Resort was just published in Business World's new magazine: The High Life. Do check out their maiden issue which is out in stands now.
A personal thanks to Judith Juntilla who let me pitch this story to them and to the very very helpful staff of the Aman Resorts' main office for providing me with additional information and photos.
INDULGE IN THE AMANDARI
By Kage Gozun
Impervious to – or perhaps recovering from -- the 2002 terrorist bombings and the recent tsunami incident, tourists and locals alike carry on with their days on the island of Bali. It continues to be the most popular island among the numerous ones that make up the world's largest archipelago. Hard core visiting surfers take off on boats in search of the ultimate wave. Party-hearty backpackers flock to Kuta and Legian for days on sun-drenched beaches and evenings in Bintang-filled bars. But for those who seek quiet solitude, there is Ubud, a peaceful hillside town in the middle of the island.
Known as the art capital of Bali, it draws travelers looking for calm amidst the noise that often invades their lives. From intricate woodcarvings to richly painted tapestries to elaborate dance rituals, Ubud is steeped in culture. Over the years, numerous hotels and spas have sprouted in town, attracting bohemians and the jet set alike.
Located in the village of Kedewatan in Ubud, the
Amandari Resort
remains the best choice for those who wish to spend more time cocooned in Ubud's peaceful aura. Amandari means "peaceful spirits" and never has a resort been more aptly named. Perched on a cliff that offers a spectacular view of the Ayung River Gorge, guests roam grounds dotted with lotus ponds and shrines, bordered by lush vegetation. The air is infused with tranquility. There is a certain stillness that asks you to slow down, that requests one to please speak in hushed tones. The service is faultless and the resort itself best described as 'serene.' If it is the height of indulgence that you are after, there is no better place in Ubud than this.
There are 30 suites in the Amandari, most with views of either the Ayung valley or the surrounding rice paddies. Eleven of the suites offer private swimming pools. All have king or queen-sized beds, dining areas, private vanities, outdoor sunken marble baths as well as a standard indoor bath. Thatched roofs, exposed timber and teak furniture lend a more localized atmosphere. Suites range from US$650 (Village Suites) to US$2,600 (the two-bedroom Amandari Suite). The more private Amandari Villa, cradled in the rice terraces away from the main grounds, is also available for larger parties and is tagged at US$3,600. All rates are exclusive of meals but are inclusive of use of the resort's facilities (except the spa).
The restaurant serves a mix of Western and Indonesian fare, overlooking the swimming pool and Ayung gorge. Treat your taste buds to spicy satay served with peanut sauce and mixed vegetables. Or go for a sampler plate of lamb curry, grilled fish, and other Indonesian favorites. For the less adventurous, standard steak cuts and chicken dishes are up for grabs. Entrees are upwards of US$15 and worth every cent.
A library, tennis court and fitness center are also on the grounds. But if exerting your mind and body are not on the agenda, head for the spa. The spa has two open-air massage areas, a beauty room, sauna and steam room. The hotel can even arrange for you to visit a local Balinese healer. If less esoteric methods are more your style then lay back and let the hotel's certified masseurs and spa staff take you through a whole range of services.
Spa rates go from US$45 for a 45-minute back/shoulder/neck massage to upwards of US$90 for full body wraps. Body scrubs and massages use traditional Balinese ingredients as well as more popularly known components. The "Rasa" treatment (US$325) is a five-hour affair that pampers you from head to foot. Beginning with massage then a delicious lunch followed by a marine facial and wrapped up with a manicure and pedicure. Champagne tops off the ultimate in coddling one's senses.
So, imagine this: the early morning light filters through the windows of your suite. The last vestiges of dreams filled with gamelan music and fire dancing begin to dissipate. You stretch and open your eyes, leaving the embrace of your bed to have some coffee. Now, wrapped in your robe and clutching that precious cup, you make your way to your private balcony. There, you sit and idly create your day's itinerary. Will it be walking around Ubud, buying crafts and visiting the temples? Or will you instead opt to spend it with a swim before a sumptuous lunch then off to the in-house spa for an afternoon of pampering? There is no rush, no need to decide right now. It is, after all, only the first hours of the new day and you are at the Amandari… the home of peaceful spirits.
For more information of the Amandari:
http://www.amanresorts.com/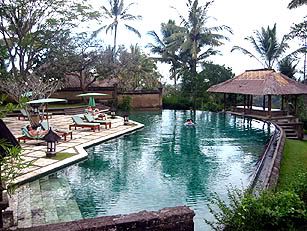 Poolside and Peaceful.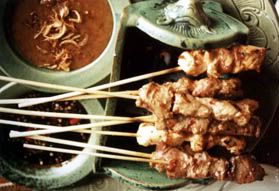 The Super Yummy Satay Special.
Anyone ever stayed at an Aman resort? All I did was have lunch at this one with my family.