Manila Weekend
April 7-9. 2006

I was supposed to go up to Pagudpud for the weekend to check out our friends' new resort. Then the plan changed to catching a late bus to La Union instead. And then
that
became a no-go as week's worth of just feeling
blah
caught up with me.
Bottom line: spent the weekend in the city, which I realize I'd not done in a really long time.
Friday Night:
Jay, Binky and I had dinner and ended up hanging out at Jay's... which is another thing we'd not been able to do in a really long time. The last time I was over, he didnt even have a bed yet. There was just the mattress on the floor. College-style. Anyway.
While Jay made me copies of Putomayo albums, Binky and I watched cable, reminisced about um, our younger years and waited for Cybil to show up. We hung out a little bit. I even tried to shoot Barclay (Jay's dog) playing with a white tabo but basically got snapshots instead of properly-lit photos. Buti na lang cute si Barclay. Haha.
Then I went home, read a little bit and then finally fell asleep wondering if Kim, Aya and them were going to score waves in La Union*.
Saturday: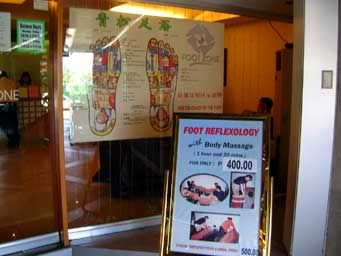 Footzone's front door. Binky and I spent an hour and a half in pure reflexological bliss as trained therapists worked over our feet, scalps and everything in between. And all for just P400!

Yes! During the last full show of Rent at Greenbelt 3's Cinemas
Singing Is Allowed!
Unfortunately, Regine and I watched an earlier show so we had to do all our singing up in our heads. Hahaha. It was fun though to finally see most of the original Broadway cast doing the movie version of Larson's play.
Sunday:


I dont have photos from Sunday because we spent most of it either eating really seafood at Red Crab (Crab Lillian... yummy!) or being lazy in front of the television set (hello, ETC and AXN weekend reruns).
So there, a weekend in the city.
*
note: The La Union trippers did score good rides... proof maybe that the Luzon North Swell isn't quite as over as we thought?