Baler in Photo Collage Type Things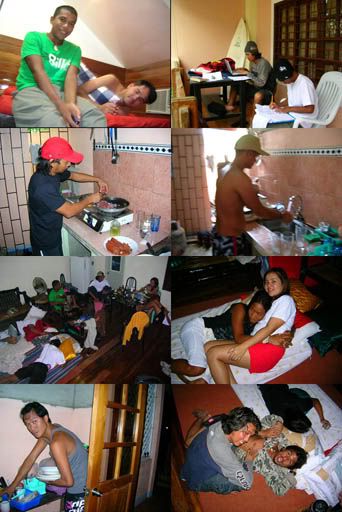 Life in the PSF Baler House. From top panel: The Kings of Chaos and

Kakulitan

Chris and Dondi; Olin and Chris working; Floyd the

Kusinero

; Al the Dishwasher; late night as seen from the stairway, Nilde & Zeny; Eric gets the dishes ready; Olin & Wilmar engage in um... male bonding.
Random scenes: Sandito Suave; manicurista/surfer Osot Alcala gets aggro with my camera; hangin' out with the Juniors; Queen of the Line-up Nildie Blancada; all bundled up for a group snap; the
best leche flan in the entire country is made by Mako's mom
; Zeny is happy, Dodo is confused; and a
paaaaarty
with the Baler Boys.