Rimat Ti Amianan
La Union, known in Northern Luzon as one of the most popular breaks for beginner surfers from Manila, was invaded by some of the best surfers in the country. Waveriders from Siargao, Lanuza, Baler, Daet, Vigan, Zambales and, of course, La Union competed in a five-day event. Held at San Juan, La Union, "Rimat Ti Amianan" (Treasure of the North), was also the sixth and final leg of the year-long Philippine Surf Circuit.
RESULTS:

Open Division:
1st: Alex Comandante - Siargao Island
2nd: Bonifacio Figuron - Siargao Island
3rd: Argie "Bad Boy" Hugo - Baler, Aurora
4th: Jun "Tanjung" Fietas - La Union

Junior Division:
1st: Joseph Antipasado - Siargao Island
2nd: Zaldy Coldura - Siargao Island
3rd: Jeff dela Torre - Baler, Aurora
4th: Allan Derecho - Baler, Aurora

Wahine Division:
1st: Nildie Blancada - Siargao Island
2nd: Daisy Valdez - La Union
3rd: Mickey Galang - La Union
4th: Joy Ishii - La Union

Grommet Division:
1st: Allen De Vera - Baler, Aurora
2nd: Bilmar Velasques - La Union
3rd: Peter Paul Alipayo - Siargao Island
4th: Paul John Alipayo - Siargao Island

TOP TWELVE SURFERS FOR THE YEAR:
* each surfer is awarded a certain number of points throughout the circuit depending on his rank during an event. The accumulated points determined this final ranking for 2005.

1. Dionisio Espejon SIARGAO ISLAND
2. Bonifacio Figuron SIARGAO ISLAND
3. Argie Hugo BALER, AURORA
4. Alex Commandante SIARGAO ISLAND
5. Martin Taniegra SIARGAO ISLAND
6. Edmund Mendoza BALER, AURORA
7. Joel Faraon BALER, AURORA
8. Rodolfo Alcala SIARGAO ISLAND
9. Jomar Gloria SIARGAO ISLAND
10. Sandito Alciso SIARGAO ISLAND
11. La Unionke Landrigan LA UNION
12. Anthony Valdez LA UNION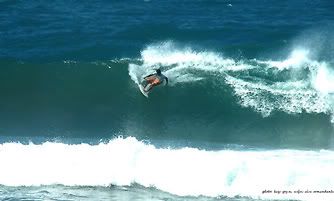 Rimat Ti Amianan's Champion Alex "Al-al" Comandante



2005's Number One Surfer Dionisio "Dodo" Espejon.