Life in a hammock
Some time last month I was in Catanduanes. And when I got back, I didnt really have the time to blog about it. So now that I do have time (sort of), I dont know exactly what I want to say anymore. Haha.



Life in hammocks. Lui, Pat and me.

Instead, here are some random thoughts:
- three hammocks on the porch with me, Lui and Pat enjoying an afternoon siesta.
- having eight guys tell me that "ang ganda mo" five minutes after I put my bags down ... largely because there were no girls for them to hit on while we were there.
- a family style belated happy birthday dinner for Zaldy
- watching Martin Taniegra, a local hero and surf legend, come home to win the competition
- dancing on the sand under strings of flashy neon lights to really bad disco songs... and loving it
- waking up at 4am because the hammock was drenched by a sudden downpour
- singing with Pat and Cris
- chillaxing while the Siargao and Baler boys played a crazy game of patintero on the beach
- making impromptu water housing for my camera alongside Pat
- the view from "Olin's Tower"

- waking up every day knowing I was going to be watching some of the best surfers in the country paddling out at one of the best waves in the country.

- the birth of the "Almost Famous" surf tour analogy
- 'abusing' our grommet Hawaiian Mic
- bathing with a view of the bukid

- the Siargao boys deciding to take off early... which led to some really emotional grup hugs and goodbyes.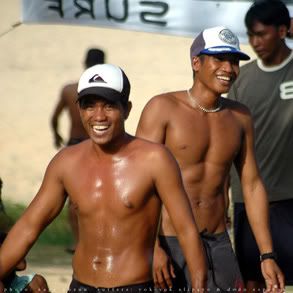 Yok and Dodo, grinning in the sun. Also know as "damn those tans!"