The Adventures of Baht Girl & Friends!
Name:

Baht Girl
Alter-eg0:

Kage the Ninja Princess
Arch Nemeses:

Brand names. Retail Prices.
Powers:

Can haggle in many foreign languages. Finds the best buys in all flea markets. Has boundless energy whilst shopping. Expert at "budget math." Knows best way to charm ornery stall owners into giving her bargains.
Weaknesses:

The following can bring Baht Girl to her knees: super sales, bad conversion rates, hunger, wrist and back pain from carrying too many shopping bags... and, most recently, the Chatuchak Weekend Market.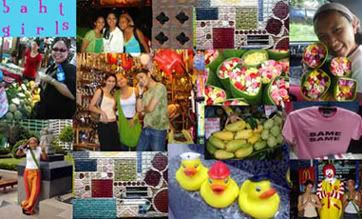 On this particular trip, Baht Girl... checked out "Cabbages & Condoms" restaurant, the richly decorated "It Happened to be a Closet" store in Siam Square, giant mangoes, lovely miniature roses at Chatuchak Weekend Market, an abundance of sights along Khao San Road, the phrase "same, same" at Pratunam Market, awesome orange pants in Suan Lum, ducks with jobs and a McSawadee McDonald's with her trusty friends Hazel, Candy, Con, Monique, Karen (with special participation of Mom).


To see more photos of Baht Girl's most recent adventures
CLICK THIS