Late entry: Lanuza
The fifth leg of the Philippine Surf Federation's year-long circuit hauled us back towards Surigao. This time, we landed at the airport and took a four-hour van ride to the seaside town of Lanuza.

Some things to note:

- There are no resorts in Lanuza so everyone stays with a family that is part of the homestay program. The PSF girls (and the Living Asia girls) were housed together in a lovely house. We had a balcony that overlooked the road and secretly renamed the place KPP (kappa pi pi -- you either get it or you dont).
- They make killer nipa wine and sell it for Php20!
- Their boulevard is loooooong! And the break goes from one end of it to the other. Bjornika and I were watching the comps one afternoon and inhaling the smell of the Jollibee truck that they drove over from Butuan just for the event. And we got to talking about what it would be like if there was a break in front of Roxas Blvd. You'd have clubs like "168 Mall Boardriders" and "The Baclaron Boys." (It was funnier when we were talking about it)
- This is going to be super vague but I had two really mind blowing conversations during this trip. One short one with Archie Martinez while we sat in the sun about happiness and surfing and skill. The other was with "kapatid" Ian Saguan at awarding night where he told me about his goals and we talked about the surf community. (Chie/Kap: I remember every word).


Two photos: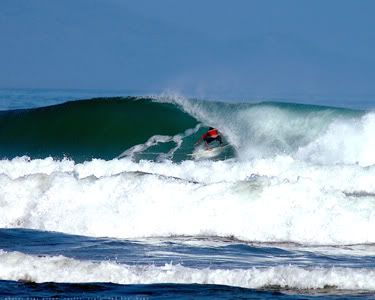 Argie "Bad Boy" Hugo tucks himself deep in a barrel.

And a few heats later finds himself at the receiving end of a huge winner's check... with floral head dress, flowing Red Horse, 540 gear and all.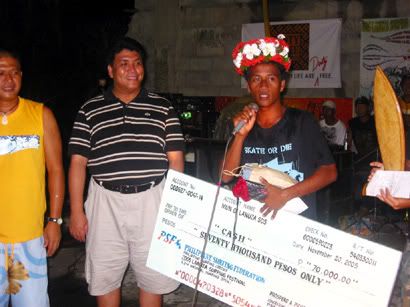 Birang-bira! Congrats Bad Boy!

More photos are up on my galleries. :)

Props to the Almost Famous peeps, the Philippine Longboarding Club, Erik Liongoren for loaning the lens, Albert Labrador for the manual focus tutorials, Pao for the tripod, Sly for the dry bag, Tor for the coffee, the Balconaje Diary Girls of KPP for the late night chika sessions, Red Horse for the buzz, everyone we hung out with who was super chill and of course to all the local surfers that ripped and shredded.