The Imperio-Rey Nuptials.
June 4, 2006. Sanctuario de San Antonio.
The Crew. The Old Farts. The "Ateneo CADs friends." Whatever we call ourselves, what we really are is a group of people that have - in the last decade - become a family. We have seen everything: births and baptisms (eight kids now with the birth of Akia), funerals, birthdays (guess who just turned 30? HBD Cookeroo!) and of course, weddings.

We are scattered around the world. Those in Manila have become so busy that it is a treat to get more than 4 of us together at any given time. A visit from one of the OFW Farts is considered special and always brings in a big crowd. Ah but the wedding of an OFW Fart? That's a super special event that merits a blog!

We congregated once again to watch Jun Rey walk down the aisle. Some of us had roles to play. Jenina, Binky, Jay and I were secondary sponsors. Marlon, of course, was the Best Man. Dicey read during the mass. Cybil and Cookie took care of the offertory. Roman whipped out his video cam to record the ceremony. And everyone else? Madly snapped photos as only an Old Fart can. I think we have more pictures than the official wedding photographer. (Even I snuck my camera in my pew so I could take my own snaps during the mass)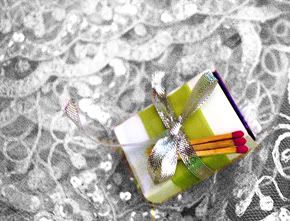 I was just the slightest bit afraid that, given how Jun knows my propensity for small accidents, he made me the candle sponsor. Binky, Jenina and I were making cracks about how I would burn the bride's veil. Or maybe even myself. Thankfully, none of that happened. At the appropriate time, Jay & I walked up, struck our matches, lit the candles (smiled in case someone was taking photos) and made our way back down to our pews.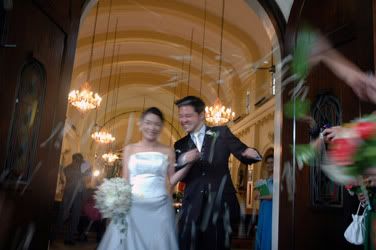 Jun Rey and Tin are avid travelers. Together they have made their way through Asia and even managed to get engaged in the Maldives. For their honeymoon, they were going to invade Europe on a Greece-Switzerland-Italy-England route, making it to London in time to watch Wimbledon. And despite the fact that they were on their honeymoon, they still found the time to send us postcards from each and every stop. Thanks for the posties guys! Can't wait to see the photos.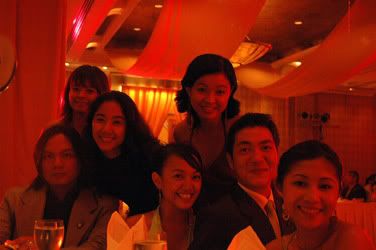 Adrian, Lala, Kaz, Cybil, Binky, Jay and Jenina.

Everybody looked lovely. I know people are going to say that I am biased because I love you all so much but it's true. The photos prove it: the Crew cleans up well.
Next to Tin, the Best Dressed tag has got to go to Kith "No Longer A Losyang" Vargas. Goddess. To see her in all her Grecian glory, head to this site.

The wedding went on well past midnight. We toasted. We played catch up. We took off our shoes and danced barefoot. We kept going back to the dessert table. We took a lot of photos. We laughed, we drank... we were merry. How could we not be when we were gaining a new person in our extended family?

We ended up in the bridal suite at nearly 1 in the morning. Spread out on the floor and the couches, tired and fighting fatigue, we recounted the booboos and high point of the last sixteen hours. Finally, we couldnt deny that we were all ready to fall asleep on our feet. Reluctanty, we hugged the newlyweds goodbye... with promises to upload photos and trade jpegs.

Okay, so... to Jun and Tin... congratulations all over again.

Love,
The Old Farts

For photos check out:
My pbase
Jun and Tin's Galleries