"Your Love is Like A Mango"
A weekend spent in Pagudpud, Ilocos Norte to see Mike&Alma tie the knot... surfer-style.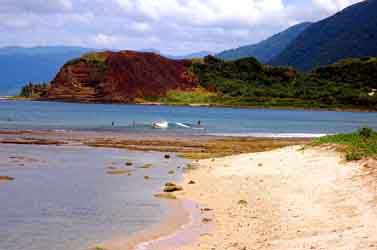 Post-session, post-wedding
That whole weekend is captured in my head. Mental snapshots of sneeking a peek at Alma before the wedding & crying cos she was so beautiful... of the look on Mike's face when he first saw Alma ... or how they both tried not to cry as they read their vows... of Alma's younger brother touching foreheads with her, a quiet post-wedding moment just for the two of them to share... of how there was so much love emanating from everyone around them... Alma and her dad laughing and crying while they danced... Mike nervously reading a cribsheet of lyrics as he sang to his Alma... of sitting down after most everybody had gone to bed, to share "one last drink" with Monica, Mia, Jun and Attorney Ely... and of course, an entire mental gallery of a Sunday morning surf session...
Fantastic weekend all around. Thank you to everyone there for the great company.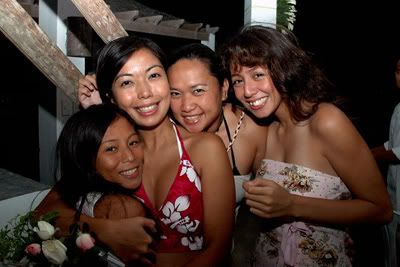 Daisy, Viva, Kage & Nikki : as formal as a surfer girl can get.
To MikeandAlma:


I met you ages ago when you first traveling through the country. Two

balikbayans

trying to reconnect with their heritage... and surf at the same time.
And then you came back, this time for good. To settle down and create a new life here in the Philippines.
Fast forward to July 8th, 2006. After a 16-hour road trip, Nikki, Buji, Ely, Daisy and I arrive in Pagudpud two hours short of
your wedding.
Your wedding! To this day I get giddy thinking about it.
The boys looked great in their khakis and whites. The bridesmaids rockin' in their tropical dresses. Your assembled families and friends, all dolled up and excited to be taking part in the ceremony.
And the two of you, undeniably in love... married now.
Thank you for inviting me to photograph their wedding. It was an honor to bear witness to your love.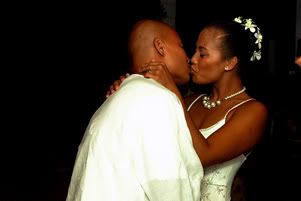 Kage
This gallery
has more photos.