November News
I know, I have been a bad blogger. I let an entire month pass with no updates. Eep! And sorry to say but I wont be able to give a detailed entry this time around either.
Suffice it to say that I spent a chunk of November juggling trips and work. The first trip was to Lanuza, Surigao del Sur for the next leg of the 2006 PSF surf circuit. I left Manila along with the number one longboarder in the world today: Josh Constable. Along with him were number 3 (Harley Ingleby) and eight other pro longboarders. These cats were super chill... not a single one of them had 'tude.

They were around for the first half of the competition, leaving on the same day that the swell finally came in.

To be honest, I was wishing I could've left with them because I was getting all Lanuza-d out already. Thankfully, the National competition was getting underway and keeping my occupied. Also Anna was around and we were able to play catch up with each other seeing as how I'd not seen her since September in Siargao.

Other highlights from the trip: Moro and I inventing Milo shakes, P5 mango shakes for the boys, surfing the beach break with Mayor Geri and Lemon, going twin-fin on the 7'6, listening to kuya Django's surf stories, and the never-ending supply of inihaw na manok.

We got back to Manila, rested for a few days, I got back into work mode... and then loaded up the van to head to Cabugao, Ilocos Sur for the final leg of the tour.

It was my first time in Ilocos and lemme just tell you: I loved it. Super scenic, really simple and even though it was too heavy for me that weekend to paddle out, I had a great time anyway. We ate tocino and sinigang nearly every meal and we never got sick of it. We were only there for three days and it felt bitin.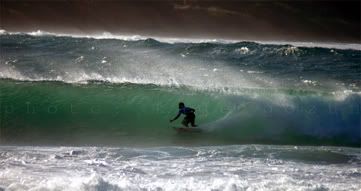 This is Jomar Gloria from Siargao. Surfing hard on a very windy Sunday afternoon, he scored top points and nabbed a P30,000 cash prize.


So that was basically what November was like for me. Oh, that and in the middle of Lanuza and Ilocos, Noelle gave me and Moro a puppy. He's a yellow labrador and we've renamed him Reggae. We took him up to Ilocos and he had the bestest time.
Photos from both trips will be up on my pbase gallery soon as I get around to them.